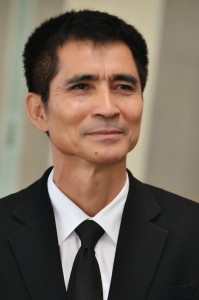 Welcome to Mattayomwatnairong School (NRS), the English Program with an International Standard!
It is a privilege for me to assume leadership of NRS. Building on the strong foundation laid by the founding Principal and staff, we aspire to be an international leader in the English Program (EP) transforming learning, as we embark on the next phase of NRS's growth.
Your children are our priority at NRS, as we nurture them to be passionate innovators who improve society through real-world applications of language and technology. Our unique applied learning curriculum prepares our students to meet the challenges of the 21st century, harnessing the potential of information and communication technology that allows students to learn anytime, anywhere and in any situation.
We believe in cultivating and sustaining active partnerships with families and the community to support the growth of our students. Our team of caring teachers works closely with parents to guide student learning and development. Our rigorous curriculum is delivered in classes which are deliberately kept small, so that students receive more personalised support and attention. We are confident that NRS will prepare our students well beyond just the O-Net Examination, as they eventually progress to university, either through the international polytechnic or junior college route.
We welcome you to join the NRS family. Together, we will help your children discover themselves, excel, and realise their aspirations.